Pick and Place Automation made easy: With seamless integration into your processes
Do you want to automate your production processes as smoothly and efficiently as possible? Our Pick-and-Place Solution Kit was designed to do just that! With intuitive operation and user-friendly software, this complete solution is ready for you to use right away. Take advantage of the benefits of automation without any further effort.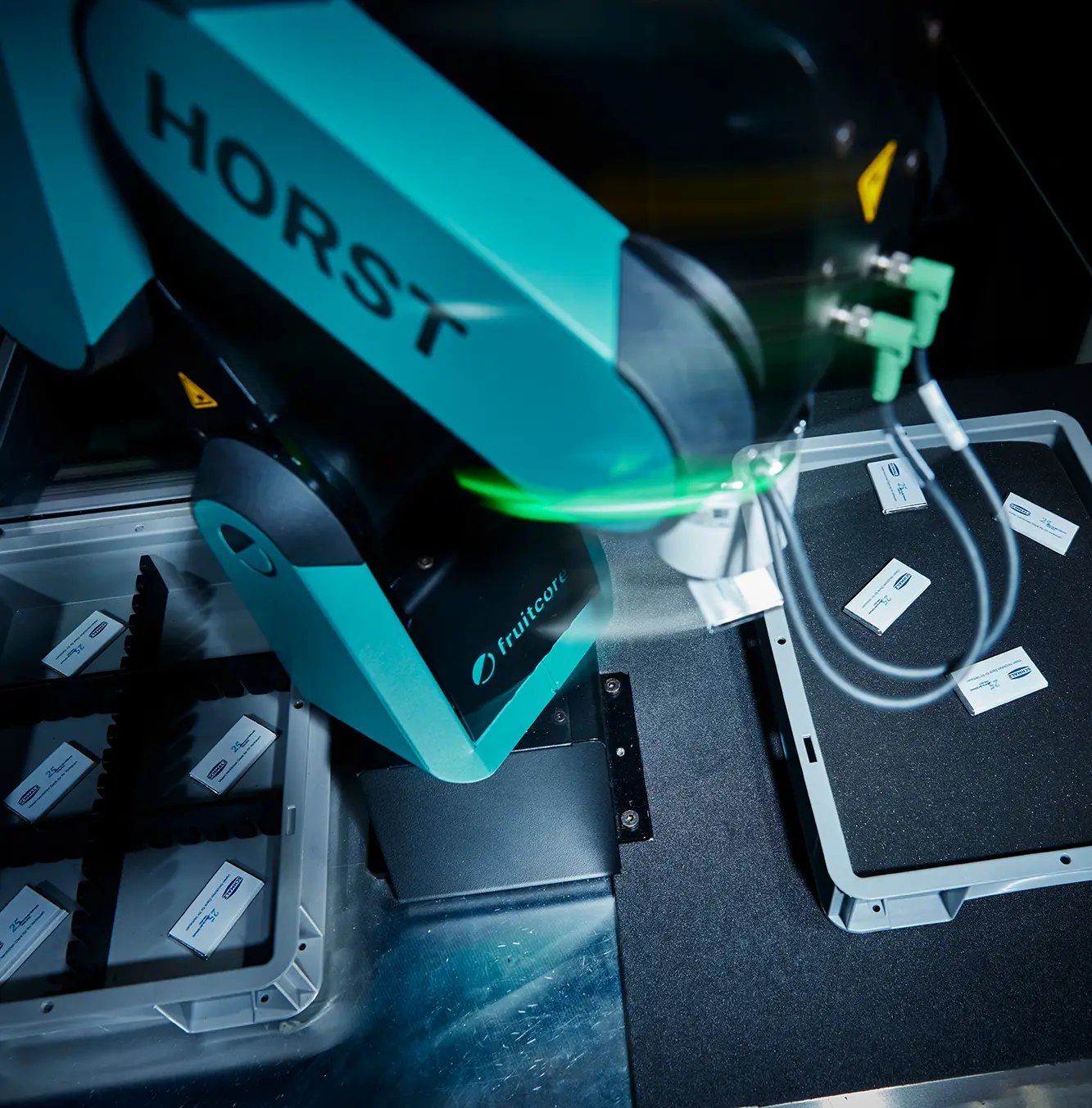 The worry-free, easy way to automate: the pick-and-place solution kit
Whether you're new to automation or looking to optimize your existing processes, our pick-and-place solution is perfect for a wide range of industrial applications.
Seamless integration
You can seamlessly integrate our pick-and-place solution kit into your existing workflows and processes. Thanks to the system's intuitive operation and our user-friendly software horstFX, transitioning to the world automation is child's play.
Conveniently CE-compliant
The solution kits we assemble are already CE-certified when they are delivered to you, so you can conveniently enter the solution into operation without delay. All you have to do is double-check CE conformity for any adjustments made to our overall solution at a later stage.
Cutting-edge technology and AI
Take advantage of the latest technology and power of artificial intelligence and automate your processes with fruitcore robotics. As with all our digital robots and software products, we also use AI and the latest technology in our solution kits to noticeably improve user experience.
Flexible and adaptable
Our solution kit is optimized for use in the majority of industrial processes in the pick-and-place sector. It can be customized where necessary or the robot system can be easily expanded. From choosing the gripper to adapting the safety technology – you are in control.
Smart connectivity and digital services
Smart connectivity enables you to take advantage of digital services such as predictive maintenance, online backups and program optimizations. Not only do these features increase the efficiency and reliability of your processes, but they also reduce downtime and maintenance costs.
Return on investment within 6 months
Effectively cut costs with a payback period of less than one year. Our fully-equipped pick-and-place solution kit is used for tasks such as fitting or loading and unloading and quickly pays for itself, enabling you to considerably cut back on costs compared to having parts handled by a single employee.
From the robot to the matching accessories: Equipment of the Pick and Place Solution Kit
Digital Robot HORST600 or HORST1000
The intelligent industrial robot with horstFX operating software is the basis of your solution kit.
Additional Features
If you so desire, you can also expand the software's features by opting for add-ons – this option is also available on a convenient subscription basis.
Compontent Kits
Depending on your needs, you can get the Solution Kit Pick and Place with jaw or vacuum grippers. You can also use our mobile robot base and a four-sided safety fence for maximum flexibility and safety in the workplace.
Additional Services
Get more extras for your automation project with HORST with comprehensive care packages: from additional advice from our experts to extended warranty for your entire robot system.
Specifications of our automation solution for straightforward parts handling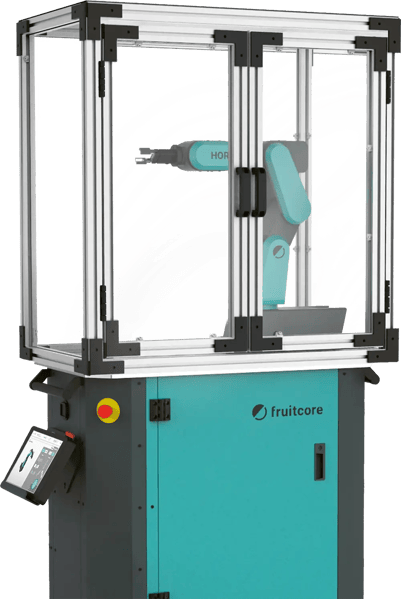 | Details | |
| --- | --- |
| Dimensions | 1040 x 640 x 1940mm (with Digital Robot HORST600); 1240 x 840 x 1940mm (with Digital Robot HORST1000) |
| Mobile base weight | 90-115kg (depending on the size of the Digital Robot); Weight of the safety fence: 51-65kg (depending on the size of the digital robot) |
| Total weight | 182kg (with Digital Robot HORST600); 247kg (with Digital Robot HORST1000) |
| Range in the closed robot platform | up to 1000mm |
| Gripper | Electric 2-jaw parallel gripper incl. standard jaw set for industrial applications or electric vacuum pump incl. 3 different suction cups |
| Extensions | Extension to training station possible |
| Customization | Individual solution possible on request |
Download detailed information on the pick-and-place solution kit
Download extensive, detailed information about the pick-and-place solution kit.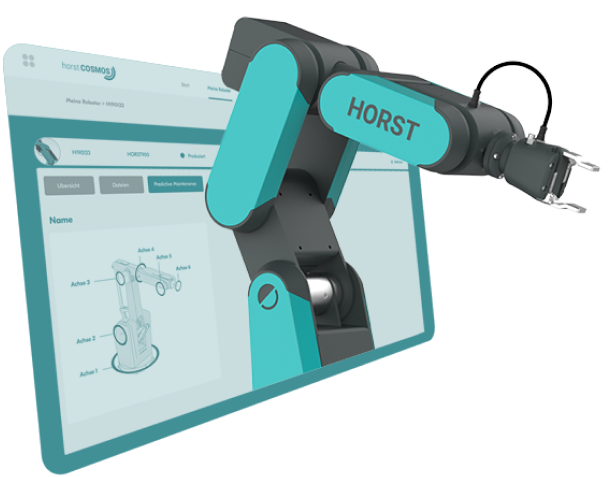 Jetzt

konfigurieren
Konfigurieren Sie diese und andere Automatisierungslösungen in wenigen Schritten selbst.
1
Wählen Sie einen intelligenten Digital Robot inklusive Software
2
Sorgen Sie mit Extra-Features der Software für einen Wettbewerbsvorteil
3
Profitieren Sie mit Care-Paketen von weiteren Vorteilen und Services
Seamless integration, effortless operation: our customers' success stories with HORST

We use the test cell for technological feasibility analyses and innovations in product development and are thrilled. The Solution Kit can be put into operation, programmed and operated quickly and easily without any special prior knowledge.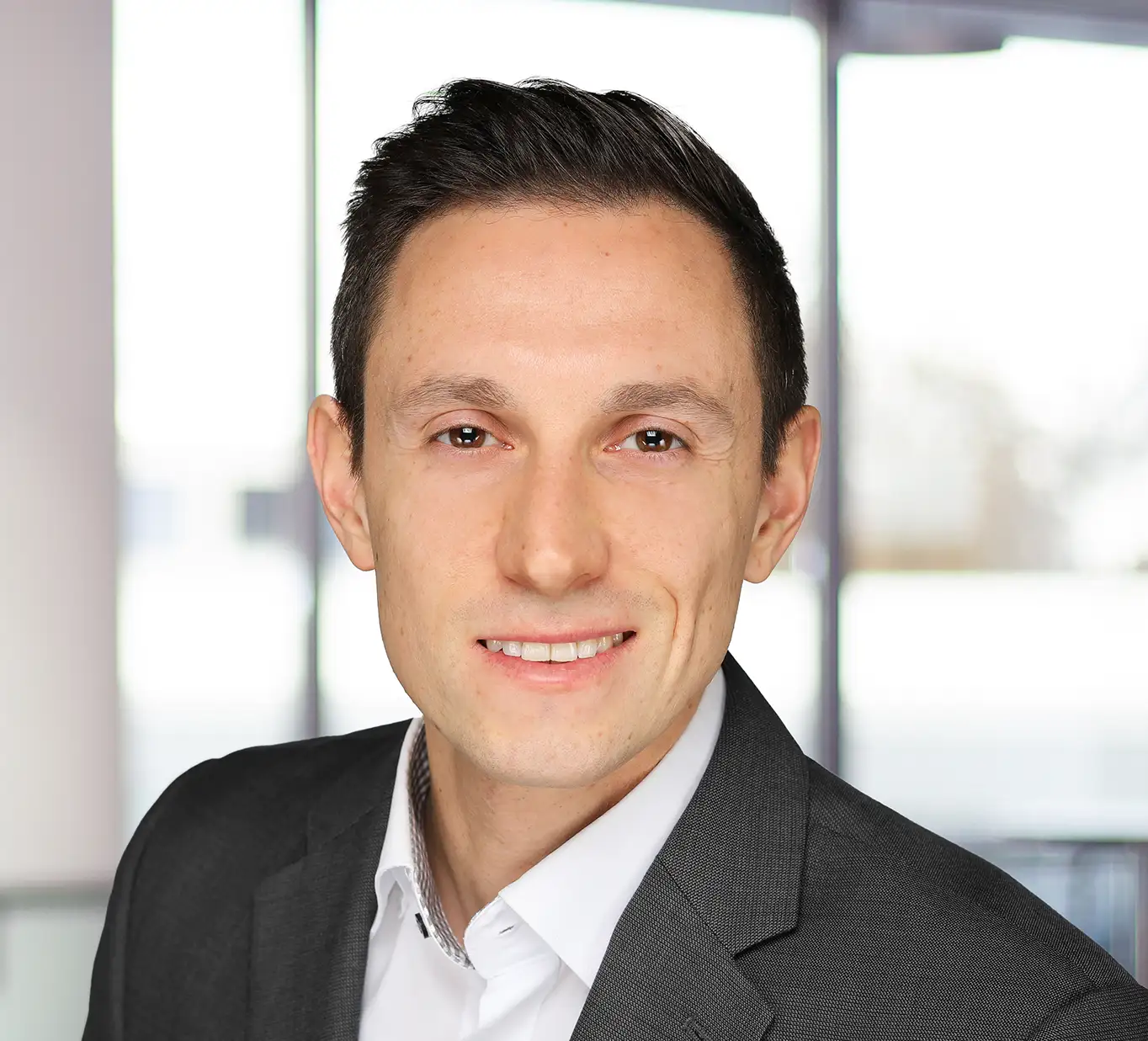 Robert Meißner
/
Senior Expert Manufacturing Technologies, Research & Development at fischer group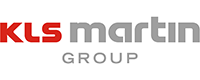 With HORST, we are very well positioned in our test lab. The compact footprint is very convenient and the usability of the robot is a great advantage, especially for the complex test setups.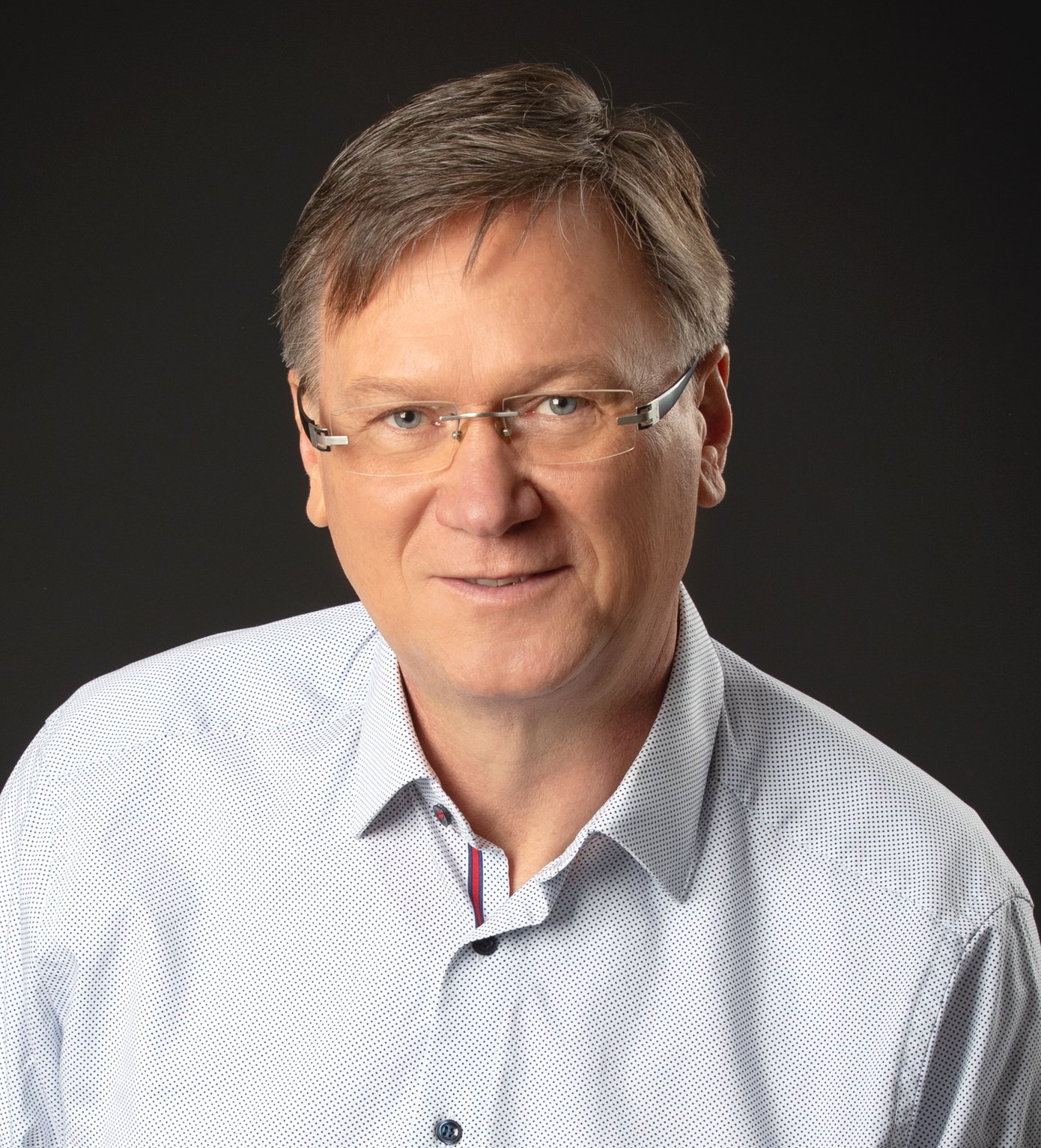 Frank Reinauer
/
Senior Director Division Implants at Karl Leibinger Medizintechnik GmbH & Co. KG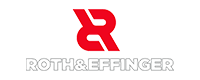 We are more than satisfied with HORST as well as with the service and support from fruitcore robotics. The team is extremely competent, friendly and very helpful. The optimal solution for us!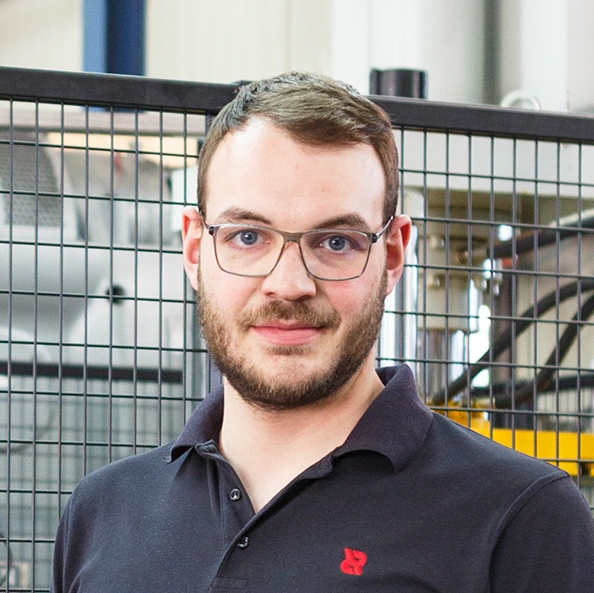 Marius Effinger
/
Project Coordinator at ROTH&EFFINGER GmbH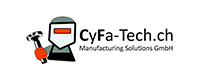 With HORST, we have achieved a very large increase in efficiency. We now produce twice as many parts and have thus been able to significantly increase our sales. The robot had already paid for itself after the first series.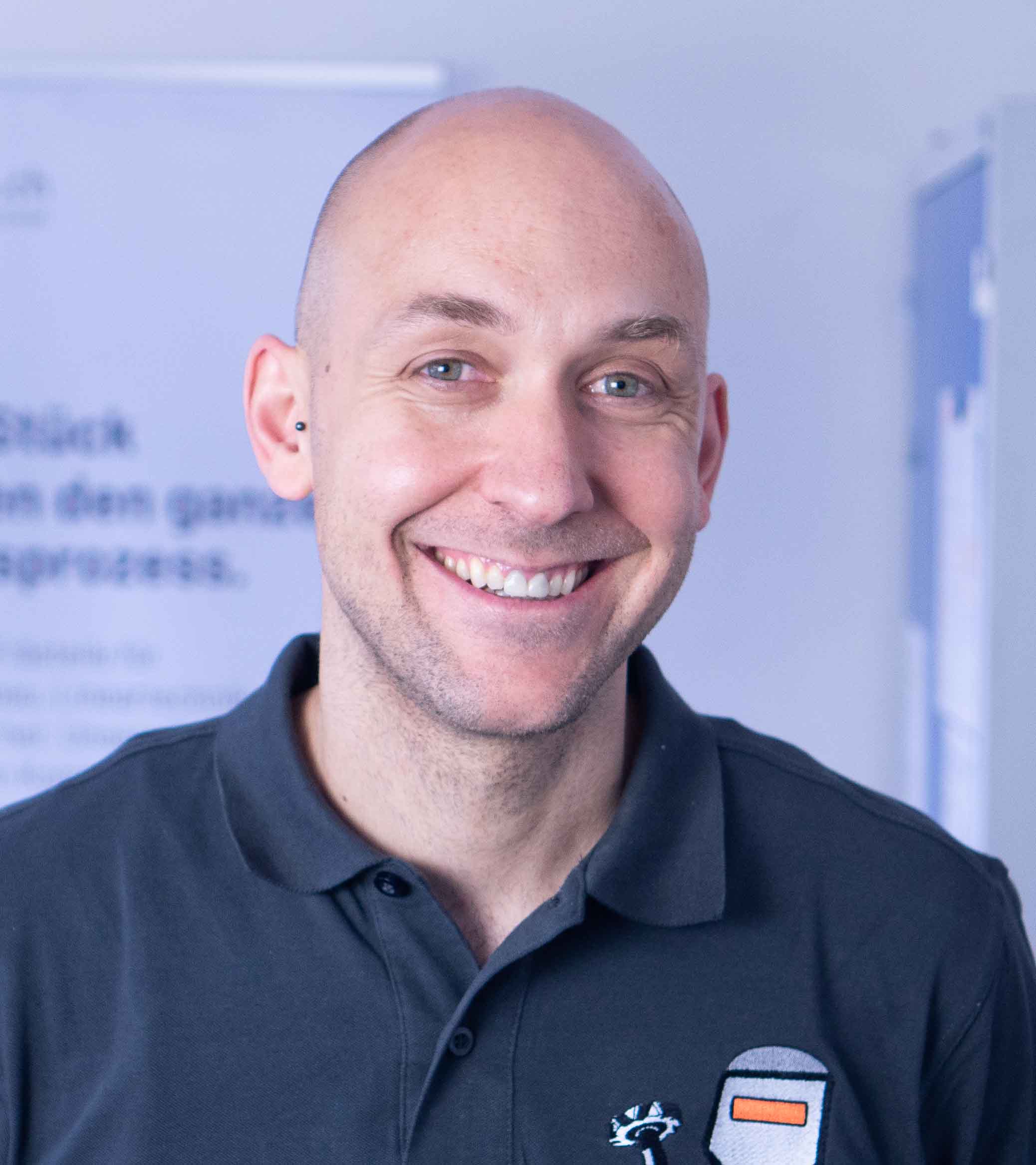 Fabian Pfister
/
Co-Founder and Managing Director at CyFa-Tech.ch Manufacturing Solutions GmbH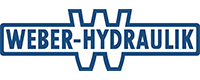 HORST takes over typical pick & place tasks for us during a hydraulic test and enables a fully automated testing process. As a result, we achieve a significantly higher output and increase our productivity. We were also convinced by the easy operation of the industrial robot, the good price and the comprehensive support from fruitcore.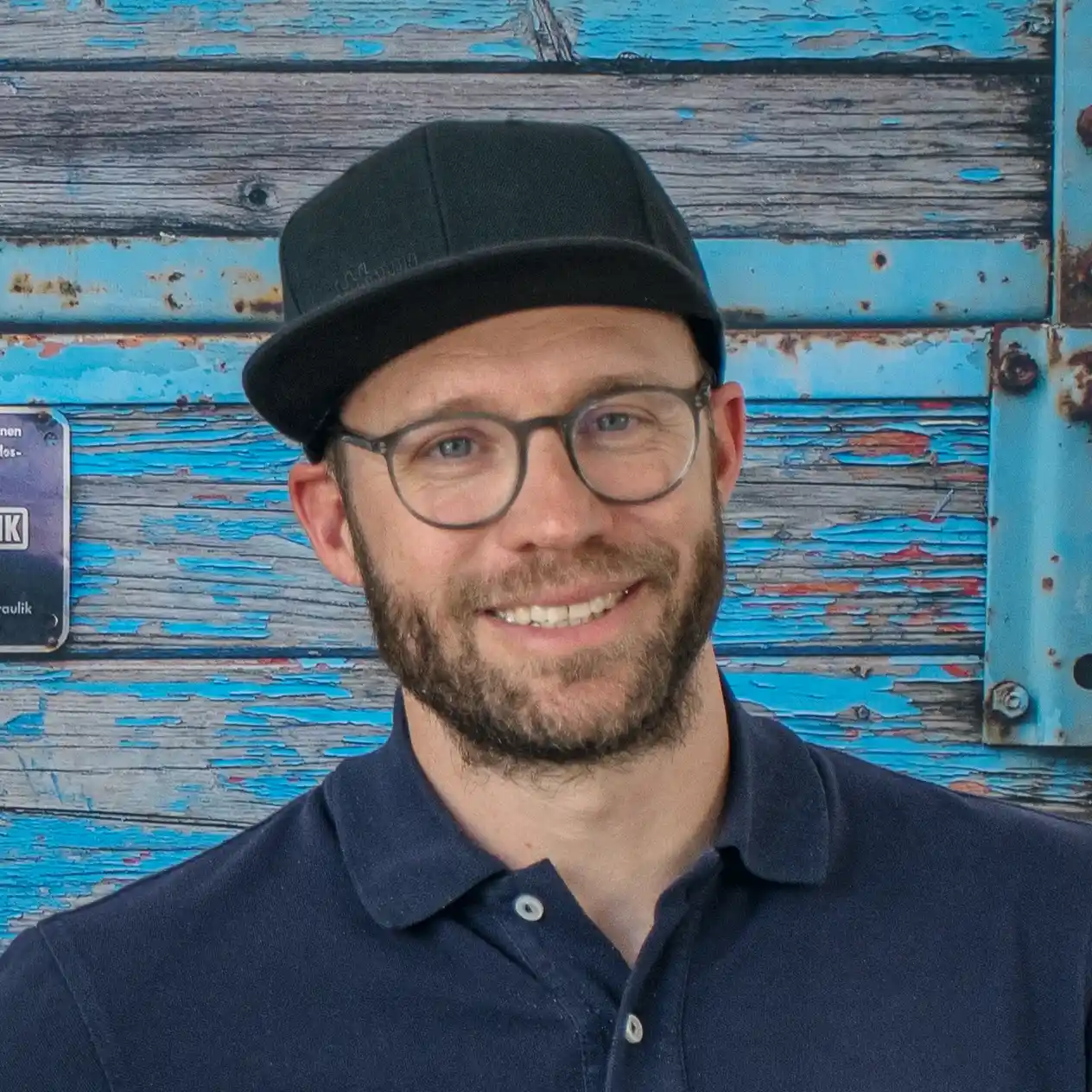 Thomas Sehling
/
Operational Excellence Manager at WEBER-HYDRAULIK GmbH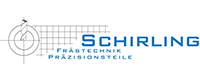 The implementation of this automation task worked quickly. Just like the cooperation with fruitcore robotics has always worked great.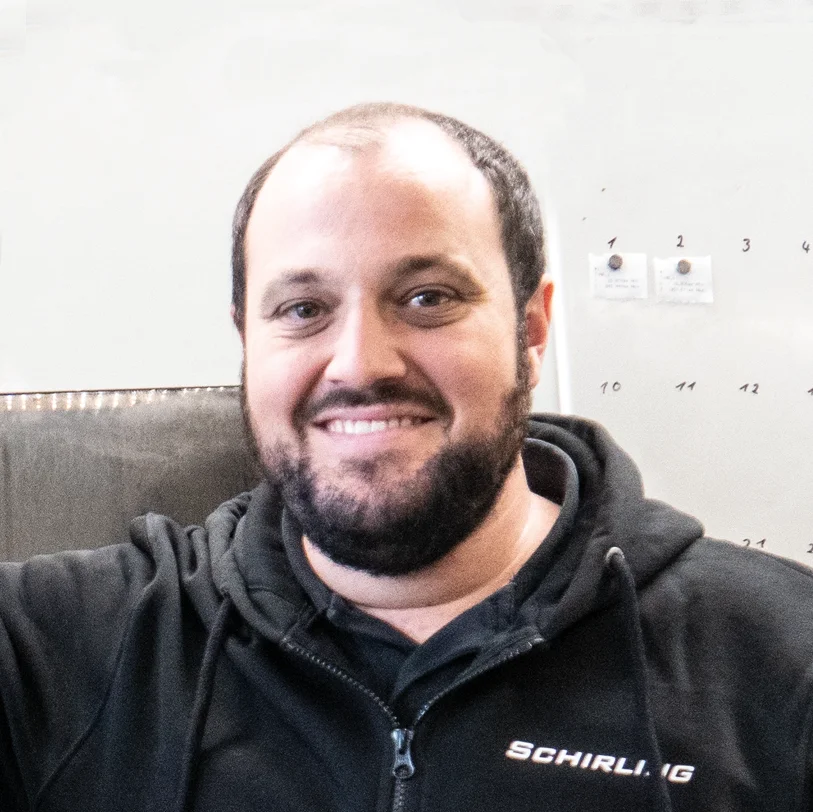 Stefan Schirling
/
Junior Owner at Schirling Frästechnik GmbH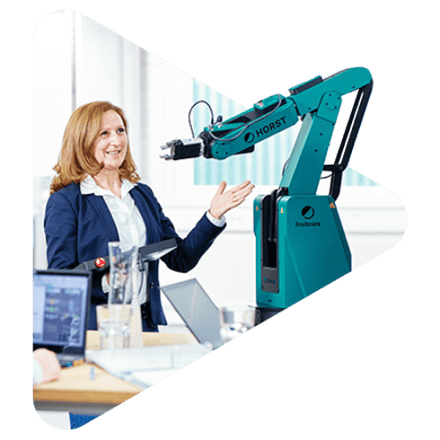 Talk to us

about your specific requirements
Every company is unique. We know that, although our standard variant is suitable for the vast majority of applications, there are still individual challenges that have to be overcome. If you have special requirements or need our pick-and-place solution kit to be adapted to your individual needs, we are here to help.